All in one! Software | Domains | Hosting | Servers
Purchase
Purchase
Hosting is a service for providing space on a server that is constantly located on the Internet to host your information.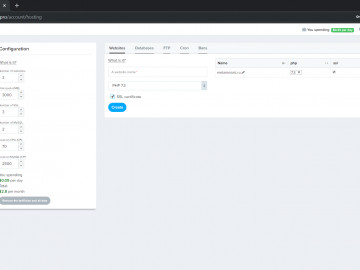 Websites is a directory on a server's disk that is referenced by one or more domains or subdomains.
In order for your domains to start working with us, specify the DNS records for them:
| HOST | TYPE | RECORD |
| --- | --- | --- |
| * | A | 159.69.244.44 |
| @ | A | 159.69.244.44 |
| www | A | 159.69.244.44 |
The website name must match the name of your domain / subdomain!
PHP is a scripting language used to develop web applications.
SSL certificate increases user confidence in your site! This is a digital signature that allows you to provide a secure encrypted connection between the web server (website) and web client (browser) using the HTTPS protocol.
Databases are places designed to add, store, modify and process information. For example, used for dynamic sites.
FTP (File Transfer Protocol) is a file transfer protocol over a network. A typical use of the FTP protocol is to download sites and other documents from a private development device to public hosting servers. FTP client: Total Commander
Cron is a classic daemon (a computer program on UNIX-class systems) that is used to periodically complete tasks at certain times.
Bans allow you to add restrictions to sites. You cannot remove the restriction if you activate the Administrator checkbox.